7 Best Garden Tools and Gadgets Every Gardener Must Have

Get ready to work those green thumbs by adding these seven best garden tools to your gardening toolbox. Keep reading to find out more.
RELATED: Spruce Up Your Outdoor Lighting With OxyLED Solar Garden Lights
7 Must-Have Gardening Tools and Gadgets | Best Garden Tools on Amazon
1. Orbit 58910 Programmable Hose Faucet Timer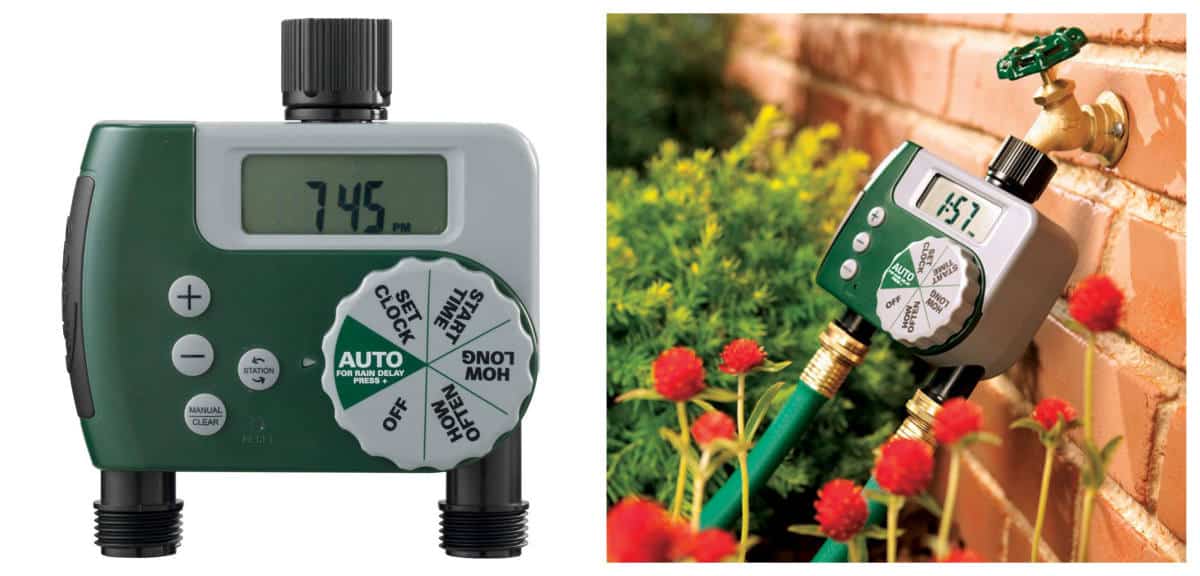 Turn your house faucet into a programmed sprinkler system without spending too much with the Orbit 58910 Programmable Hose Faucet Timer! With this easy-to-install attachment, you're just a few buttons away from setting watering durations and frequency.
Timed Watering — It lets you set the timing just right to avoid under and over watering.
Manual Watering — This allows you to water your plants or lawn manually without interrupting the programs you already set.
Rain Delay — It comes with a built-in rain delay feature that pauses the set schedule for 24, 48, or 72 hours.
Easy Installation and Durability — You can quickly attach it with swivel connection and it's built to be weather resistant.
Specs
Dimensions: 3 x 7.8 x 10.2 in.
Weight: 1 lb.
Batteries: 2 AA
2. In-Garden
100ft Expandable Water Hose with Double Latex Core
Is your faucet just too far from your garden? No worries as no plant will be out of reach with this 100-ft garden hose.
Nickel Coated Solid Brass Fittings — Most hoses in the market comes with copper or plastic joints; the former rusts easily, the latter is not as durable. This In-garden hose comes with a heavy-duty anti-rust

nickel-coated solid brass fittings.

High-Quality Double Natural Latex — This hose's inner tube is made of a stronger and more durable double layer natural latex, unlike others that use TPE.
Tail Protection Cover — It comes with a sleeve to protect it from twisting and breaks.
Easy to Use and Store — Lightweight and only 33 ft. when collapsed, this hose can expand up to three times its normal size.
Warranty – Enjoy a 30-day money-back and 12-month quality warranty.
Specs
Dimensions: 14 x 9 x 5.1 in
Weight: 4.85 lbs.
3. Hori Hori Garden Knife
The beauty of the Hori Hori Garden Knife is it can do just almost anything for you. From weeding, pruning, digging, harvesting or even measuring, you can count on it.
No need to clean and maintain several tools because this knife can do most tasks, which is why it deserves a spot on our best garden tools list. It's perfect for the casual gardener who's looking for something more convenient.
Impressive Blade — It's 7″ blade is made with 420 stainless steel and is sharper than most Hori Hori knives.
Extra-Strong — Built to be extra-strong with the knife blade extending all the way through the handle, protecting the blade from snapping off. Its handle is also secured with three rivets.
Multipurpose — Applicable to a variety of gardening activities.
Premium Sheath — It comes with a durable sheath made of nylon, which you can attach it to any belt or strap.
Specs:
Dimensions: 14 x 3 x 1.7 in.
Weight: 1 lb.
RELATED: 7 New Technology Gadgets You Need For Summer
4. GardenHOME Folding Stool with Tool Bag
What happens when your gardening stool becomes your ultimate organization toolbox, too? Utmost convenience and comfort, that's what.
Portable and Lightweight — This sturdy but lightweight stool is designed to be portable and durable under all weather conditions.
Sturdy Steel Frame Stool — This amazing folding stool comes with a sturdy steel frame and strong polyester canvas.
Detachable Polyester Storage Tote — You can easily detach the polyester storage tote for cleaning and maintenance.
External and Special Pockets — Get easy access to your tools with its external pockets and keep your mobile phone safe inside its special storage.
All-in-One Treat — This purchase includes

1 heavy-duty folding stool, 1 storage bag, and 5 sturdy stainless steel tools.
Specs
Dimensions: 18.1 x 9 x 11 in
Weight: 4.98 lbs.
5. Pine Tree Tools Bamboo Working Gloves
With the Pine Tree Tools Bamboo Working Gloves, you can protect your precious gardening assets from dirt, wounds, and nasty splinters and enhance your overall gardening experience.
Breathability — Designed with your utmost comfort in mind, these gloves are made with bamboo that can absorb sweat and keep your hand cool.
Bare Hand Sensitivity and Touchscreen Friendly — No need to take your gloves off to use your smartphones during gardening.
Abrasion-Resistant — This pair of gloves can protect you from abrasions, irritations, and other wounds. As a matter of fact, they're EN388 4132 certified.
Multipurpose — Although originally designed for gardening, this pair of gloves can also be used for

construction and restoration work, fishing trips, and lobster diving.
Specs
Dimensions: 8.3 x 4.7 x 0.4 in
Weight: 1.6 oz.
6. Ohuhu Garden Kneeler and Seat
Kneeling on the ground when gardening can be painful and tiring, but the Ohuhu Garden Kneeler and Seat can help out with that.
Happy Knees —  It features an elevated kneeling pad to reduce pain from prolonged kneeling and keeps your knees away from muddy ground and grass.
Dual-Purpose — You can flip it over and turn it into a comfortable garden chair when tending to bigger shrubs and long-stemmed plants.
Easy-Fold Mechanism —  Use it with ease with its easy quick-snap open and closing mechanism.
Sturdy and Lightweight — It features a strong steel frame and EVA for durability, and also has plastic parts, which makes it lightweight.
Complimentary Pouches — You also get two complimentary pouches for your tools that attached with Velcro.
Specs
Dimensions: 

22.83″ x 11.02″ x 19.29″ in (unfolded)
23.63″ x 10.63″ x 5.32″ in (folded)

Weight: 5.73 lbs
7. Fiskars Micro-Tip Pruner
Master the art of pruning with the help of the Fiskars Micro-Tip Pruner. It may be small, but it definitely can make trimming, shaping, and deadheading easy, precise and quick.
Helps with Hand-Fatigue – Its spring-action design gently opens the blades after every cut helping in reducing hand fatigue.
Non-Stick Coating – Work faster and with lesser nuisance with its non-stick coating that decreases jamming and buildup of sticky resin.
Long-lasting Blades – Sharp as it should be, it's made with fully-hardened

precision-ground stainless steel blades that won't dull easily even with heavy use. 
Specs:
Dimensions:  0.8 x 3.9 x 10.8 in.
Weight: 2.4 oz.
Learn more about these cool gardening gadgets you can buy on Amazon in this video from Tech Mooz:
Whatever it is you are looking for — from fun to functional tech for whatever kind of activity — Amazon would not disappoint. Grow your garden and indulge the green thumb in you by getting any of these amazing garden gadgets and tools.
Do you know other essential gardening tools and gadgets worthy to be listed as one of the best garden tools? Share them with us in the comments section below!
Up Next: 
Pricing Disclaimer: Prices on this list are subject to change without further notice based on price fluctuations on Amazon. Please refer to the links for actual prices. All prices on this list are accurate as of May 29, 2019.