10 Best Video Editing Tools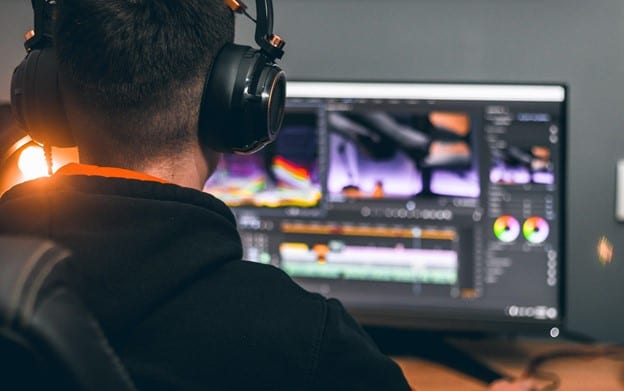 Estimated reading time: 11 minutes
Today, video is becoming an integral part of our lives and a must for digital marketers and vloggers regardless of the field.
I'm sure you watched videos online and wondered how did they make that cool transition or get that color tone?
Video quality and clean editing can set you apart from a total amateur. That's why it's critical to have the best video tools to produce engaging content that keeps your viewers wanting to come back for more.
In other words, if you are looking to increase your profit or get more viewers you need to start improving the quality of your videos.
However, when it comes to selecting the right editor you might be puzzled by the variety of software options and features like color grading, multitrack editing, Multicam editing, motion tracking can make everything even more confusing.
To help you out we put together this list with our top 10 best video editing tools for 2021 alongside their pros and cons.
Price: Free 7-day trial and paid plans starting at $39.99
Platform: Windows/Mac
If you are looking for the perfect video editor to start your vlogging journey Movavi is the way to go. Say you've never worked with video or are a YouTube blogger about to start a channel, you need an intuitive tool that makes the editing process easy and saves you time for the actual creative process. Some of its best features include a video stabilizer (here's the link to other video stabilizers on the market), the option to create vertical videos, and prebuilt effects suited for people who are getting started.
Movavi is entry-level software well suited for non-power users no matter the project size. It is easy to use, has a variety of filters, ready to use transitions. For those who've used Adobe Premiere Elements, you will see a lot of similarities in the layout.
Pros:
Full HD and 4k support
Direct upload to YouTube
Voice over recording
All Popular Formats Supported
Cons:
No audio meters
Not made for professional editing
The trial version has limited functionality
Price: Monthly plans starting at $7.99
Platform: Windows/Mac
Another consumer-oriented software and easy to use is Filmora. This video editor simplifies the editing process to save you time without compromising on quality. Filmora is ideal for those new to the video editing process and that won't be needing extensive or complicated features of professional software.
Filmora might lack some advanced features but it offers standard trimming and overlays with a clear and user-friendly interface. The software also comes with 100 powerful transitions and many cool filters (read more here) that replicate those of Instagram. Filmora is also quite fast to render closely competing with high-end software like Pinnacle Studio or Corel Video studio.
Pros:
Variety of effects
Many online resources to learn from
Seamless interface
Cons:
Lacks Multicam editing
No 360 video support
No motion tracking
Price: Limited Free version. Paid plan $9.99
Platform: Windows, Mac, iOS, and Android
With the increasing demand for mobile apps, we couldn't skip Adobe Premier rush.
Creating content couldn't be easier!
There is no doubt that Adobe has become a synonym for superior quality and Its latest development, Adobe Rush, doesn't disappoint. This software is mainly designed for vloggers who want to quickly edit content and export it right away.
The app is built with many features like tailor transitions, preset and manual color correction, a wide array of built-in text templates to make your content stand out in the crowd. Adobe Premiere Rush is full of customization options.
Keep in mind that the app is mostly designed for vertical use. As soon as you open it for the first time Adobe Rush welcomes you with a walkthrough but it is fairly easy to get the hang of it. And of course, for those seasoned Premiere Pro users, this app is a walk in the park.
Pros:
Simple interface
Convenient for quickly sharing videos to social media
Cross-platform support ( you can start a project on one device and finish in another)
Perfect if you are already an Adobe user
Cons:
Limited features on the free version
Limited editing control
SEE ALSO: 23 Best Photo Editing Apps | The Ultimate List
Price: $299.99
Platform: Mac
A video editing software roundup is not complete without including the timeless Final Cut Pro, a favorite tool of many YouTubers and vloggers alike. Final Cut Pro could possibly be one of the best video editors in the market. As it closely matches the latest industry standards.
Final Cut is mostly designed for experienced and professional users. It is a very well respected and stable tool to produce stunning long video content. It is worth noting that Final Cut Pro X is optimized for advanced color correction, 360° video content, impeccable improved stability, and their famous magnetic timeline, perfect to fit edited clips into place.
Pros:
Ideal for apple users
Powerful editing tools
Intuitive Interface
Multicam support
Cons:
High-end price range
Not available for windows users
Price: 30-day trial plans starting at $99.99
Platform: Windows
No matter your level of proficiency, you can create compelling videos with PowerDirector 365 and achieve outstanding results. This software has everything you need to get started. Quick and easy video editing at your fingertips.
PowerDirector is known for its fast rendering, clean interface, loads of effects as well as being able to edit 4K. This software bridges the existing gap between entry-level software and professional editing. Its various tools help you put together amazing videos in no time.
The software also comes with an extensive audio library that gets content added monthly. Perfect to spice up your videos with the latest tracks.
Pros:
Great transition options.
Multi-file support
Simple user interface
Easy to learn and use
Multicam editing
Motion Tracking
Cons:
The number of features can make it a bit overwhelming for new users
Price: 30-day free trial. Paid version $99.99
Platform: Windows/Mac
If you are already used to video editing and want something a bit above the basics, Adobe is not your only option. VideoStudio is brought to you by the creators of CorelDraw. This software is a relatively cheaper option with a very clear interface and tons of features for beginners.
It is worth mentioning that this is one of the few consumer-level video editing software capable of working with 360° VR footage.
Pros:
4K support
Motion tracking
Multicam support
Music Library
3D Text editing
Cons:
Price: Free
Platform: Mac/iOS
Apple's iconic iMovie has been around for quite some time now. It is known for its superb quality and clean and minimal interface. The user experience is very straightforward and its newest version comes with an app that can be used on your iPhone or iPad (here's the link).
Just drag and drop to get started with your project. iMovie is a comfortable software with the basic tools to get started on your storytelling projects until you get comfortable and ready to move on to something professional.
Pros:
4K video support
Multiplatform workflow
User-friendly interface
Great for Mac Users
Easy for new learners
Cons:
Requires great HDD space
Importing MP4 files is a bit of a hassle
Doesn't provide the full capabilities of a pro video editor
SEE ALSO: Free PDF Editors For Mac and PC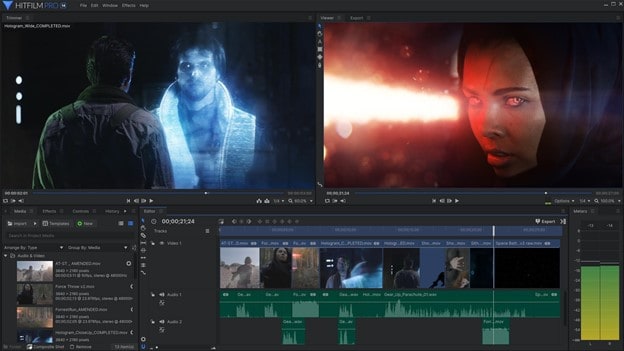 Price: Free Software. Paid Add-ons
Platform: Windows/Mac
HitFilm Express is basically a one-stop-shop for all your video needs.
This impressive video editor dedicated to those with a bit more experience. The video editing and VFX software are completely free and fully loaded with a ton of pretty awesome goodies. Think of a replica of Adobe Premiere Pro.
HitFilm Express is one of the best video editors for film students, Indie filmmakers, gamers, and YouTubers. As well as anyone wanting to create film-grade movies.
Additionally, you can use it for 2D and 3D compositing.
It currently used by 5 million users worldwide in over 160 countries. Hitfilm provides a great variety of amazing effects that are usually paid on other software.
Pros:
Professional grade editor
Built-in voice recorder
Over 400 effects and presets
Free tutorials and learning materials
Unlimited tracks and transitions
Cons:
Not so easy to use
A limited number of transitions
Price: Different plans starting from $10
Platform: Online
Need quick and professional-looking videos?
Invideo is an online editor designed for those who need to put out content fast. Its intuitive and user-friendly interface makes it one of the easiest editing video editors in the market. Ideal for amateurs and experienced users looking to get great video content while saving time and effort at the same time.
Think of Canva for video. Their website is loaded with pre-made templates to get you started in no time.
Invideo is a time saver tool for digital marketers. One of the most impressive tools about this software is that it's capable of quickly create engaging videos from your written content.
Pros:
Perfect for small companies needing to produce lots of video content
Great tech support
Premade templates
Article to video feature
Voice over capabilities
Huge stock of royalty-free music
Cons:
Some premade videos might look a bit random
Voice over can sound robotic
Price: Free 7-day license. Monthly subscription for $24.99
Platform: Windows/Linux /Mac
If you want to create stunning videos for your vlog or YouTube channel Lightworks is a great tool to make your projects stand out. Lightworks is the video editor for everyone. Don't be fooled by its lightweight, This video editor is capable of working on any projects, big or small.
Lightworks can run on low-end computers and requires minimal system configuration.
Both the paid and free versions of Lightwork are pretty much the same with the exception of output format limitations.
Pros:
A flexible tool to produce industry-standard videos
4K editing
Share videos online with one click
Access to royalty-free audio and video content
Big effect library
Cons:
No video stabilization
3D video editing not supported
Conclusion
There you have it. Our top 10 best video editing tools for this year. As you can see there are plenty of options to choose from. Some are paid, some are free, some can be used across platforms.
It can be confusing at first but don't be intimidated. Each one of them has special features that will suit the needs of your project. We hope this guide will help you make a decision and get you started making videos today.