15 Father's Day gift ideas for dad [TECH GIFT GUIDE]
As a dad myself, I know that it's pretty difficult to go wrong when choosing a tech gift for me for Father's Day. The only thing that might be difficult about the process is finding a tech gift that I don't already have.
But if you're not lucky enough to have as many tech gifts as me, here's a list of some of my favorites that I either own or have personally tested or reviewed over the years. Feel free to add them to your wish list or send the list to your loved ones as a not-so-subtle hint. Either that or brace yourself for another new tie this Father's Day.
1. Amazon Echo
$179.99 [Click here to view on Amazon.com]
The Amazon Echo is the ultimate home assistant. Use Alexa (that's her name) to tell you the weather, set a timer or teach you how to spell a word. The Echo is also a speaker so feel free to play all of your music from Prime Music, Spotify, Pandora or iHeart Radio. With third party skills and new features released regularly, Alexa gets smarter and smarter every day.
2. iClever BoostCube 4-Port USB Travel Wall Charger
$19.99 [Click here to view on Amazon.com]
The ultimate travel charger. Charge up to 4 devices with only one thing to plug in. Stop fighting with your family over the electrical outlet. Plus the iClever BoostCube has intelligent ports that auto-sense what type of device is plugged in to deliver exactly the power each device needs.
3. Oak Leaf Dimmable LED Desk Lamp
$23.99 [Click here to view on Amazon.com]
Hang it on a wall or set it on your desk. Either way, dad is sure to love this dimmable LED desk lamp. Touch the power switch up to three times for three different degrees of brightness. And when it's not in use, it folds up out of the way!
4. Roku 3 Streaming Media Player
$85.13 [Click here to view on Amazon.com]
One of the easiest ways to bring Netflix, Prime Video, Hulu and thousands of other streaming services to your television, all in one place. The Roku 3 has an easy-to-use interface and can be customized to fit your specific needs. Can also be used to rent or purchase movies and television shows. Search for your favorite movies and TV shows with the voice search built right into the remote.
5. Nest thermostat
$249.00 [Click here to view on Amazon.com]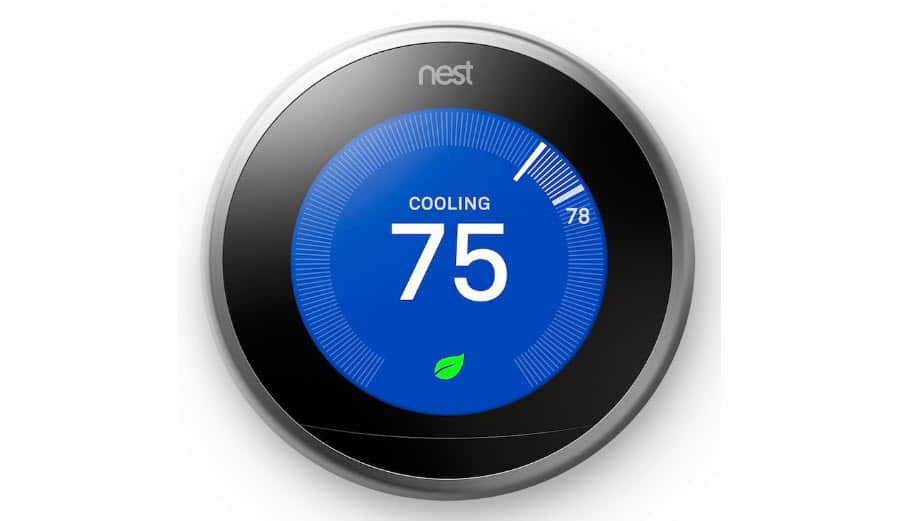 For the dad who grows tired of the boring old thermostat. The Nest thermostat learns from you each time you adjust the temperature. You can adjust the temperature when you're away from home or have the Nest thermostat auto-adjust the temperature after you leave the house. And for the ultimate peace of mind, the Nest will alert you if the temperature gets too hot or too cold when you're away from home. Works with the Amazon Echo (see elsewhere on this list) too!
6. OxyLED LED Light Bulb 6-Pack
$23.99 [Click here to view on Amazon.com]
What's better for dad than a light bulb that lasts for up to 23 years? How about a 6-pack of bulbs that last up to 23 years? These LED bulbs are the equivalent of a regular 60 watt bulb but will save you up to 80% on your electricity bill—and what dad doesn't like saving money on utility bills?
7. WeMo Switch
$34.99 [Click here to view on Amazon.com]
More than just a timer for your lights. The WeMo switch allows you to turn your lights (or whatever else you plug into the switch) on and off remotely using the free WeMo app. Or program the light to turn on and off with your own custom schedule including options for sunrise and sunset. If you have the Amazon Echo, you can tell Alexa to turn on or off any light connected to the WeMo switch by using just your voice.
8. Accuon Big Digit LCD Wall Clock
$38.99 [Click here to view on Amazon.com]
Not only is this clock easy to read from far away, but it's a clock you never need to set! The Accuon Big Digit LCD Wall Clock sets the time automatically using radio frequencies broadcast from the Atomic Clock. Displays time in 12 or 24-hour format and includes month, day, day of week and indoor temperature.
9. 1byone Portable Vintage Turntable
$76.99 [Click here to view on Amazon.com]
Does dad have a collection of old records that he can't play. This portable turntable is the perfect solution. With built-in speakers, there's no need to bother with hooking up to a AV receiver or standalone speakers. But just in case you still want to hook up your speakers or listen via headphones, the 1byone Portable Vintage Turntable includes connectors for both.
10. Jackery Giant+ Premium 12000 mAh Dual USB Portable Charger
$23.99 [Click here to view on Amazon.com]
Dad has gadgets, right? So he needs to charge them, right? The Jackery assures there will always be a charge available even when dad's not at home or when an electrical outlet is nowhere in site. Dual ports mean dad can charge two devices at once. And the 2.1 amp port is specifically designed to charge an iPad or other tablet.
Also, available in a smaller 6000 mAH size for $12.99.
11. Fitbit Charge HR Wireless Activity Wristband
$129.95 [Click here to view on Amazon.com]
Help dad get back in shape (or keep in shape) with the Fitbit Charge. This Fitbit will not only track dad's daily step count but will also measure his distance, calories burned, floors climbed, heart rate and active minutes. It can even monitor dad's sleep behavior!
12. JBL Flip 3 Splashproof Portable Bluetooth Speaker
$82.09 [Click here to view on Amazon.com]
Perfect for when dad wants to listen to music on his smartphone or tablet but the internal speakers just aren't loud enough. The JBL Flip 3 can connect to up to 3 smartphones or tablets and gives your music the boost it deserves. It's also splashproof so go ahead and use it by the pool.
13. iOttie Easy One Touch 2 Car Mount Holder
$19.95 [Click here to view on Amazon.com]
Want dad to use the GPS on his smartphone while driving but without being a distracted driver? Give him an iOttie Easy One Touch 2 for his car. His smartphone will snap right in with one touch and keep his hands on the wheel where they should be.
14. Seagate Expansion 1TB Portable External Hard Drive USB 3.0
$54.99 [Click here to view on Amazon.com]
If dad isn't doing his computer backups like he should, give him a nudge in the right direction by giving him a Seagate 1 TB USB hard drive. Even better, give him the USB hard drive and do his first backup for him! He'll thank you later.
15. Brother laser printer HL-L2340DW
$79.99 [Click here to view on Amazon.com]
Put an end to dried out ink cartridges and inkjet headaches by getting dad a brand new laser printer from Brother. He'll be impressed with how many pages he can print on one toner cartridge and he'll love the higher quality print. If dad is into saving paper, he'll also love the built-in automatic duplex printing. Connects to your computer wirelessly or via a USB printer cable (not included).