Mr. Noobie's Review of Goals.com's Habit Tracker

If it's a seamless, all-in-one (productivity, organizational, inspirational, and habit tracker) app you are looking for, you're in for a mighty treat with Goals.com. Let's talk about what Mr. Noobie loves about this app below.
RELATED: Up Your Productivity With These 7 Gmail Hacks
Reasons To Love Goals.com | A Habit Tracker App Review
Features and Benefits
Goals Map and Mobile Coaching
Goals.com's app provides users with goal setting templates designed to help in reaching any goal, big or small. This goal tracker lets you simplify goals into smaller steps while giving you the utmost support to keep you motivated and focused every step of the way.
It lets you choose from a range of life aspects you want to improve and focus on, including:
Business
Career
Community
Education
Family
Financial
Fitness
Relationships
Sports
Once you've chosen one, it suggests a couple of specific goals you can start doing, complete with steps, advice, reminders, and notifications from expert life coaches.
Say you want to improve your finances and start paying off your debts, there are goal maps for "Get Out Of Debt" that lays down steps you need to do to achieve such goal.
Introspection Features
We can only do so much if we're not in tune with our minds and bodies. By having actionable personal data on what we are, what we think we are, and what we want, planning for our goals becomes easier.
Goals.com's journaling feature will challenge you to think deeper about who you are, where you want to go, and who you need to become to get there. It lets you discover the power of a personal journal and how it can play a role in the success of your goal-setting journey.
Habit Tracker
If you find it hard to develop and maintain better habits, this habit tracker might just be the solution for you. This feature lets you see your habits from a bigger picture, build on positive trends, and infuse new habits into your daily routine.
Once you've added a habit into the tracker, you can start monitoring your progress and have an empirical data you can use for improvement.
RELATED: 7 Best Productivity Apps Perfect For The New Year
Organizational Features
The app's built-in scheduling and to-do systems can help you stay on top of your game.
It lets you organize and manage your day-to-day life with a mobile to-do list. You can simply add tasks or mark them as "complete" at home, or on-the-go.
With the goal mapping program, you can also break down your goals into an organized schedule of tasks.
For crucial tasks that you need to remember to the dot, you can quickly set a reminder that will send you a notification while you're at home or on the road hustlin'. 
Ideas and Inspirations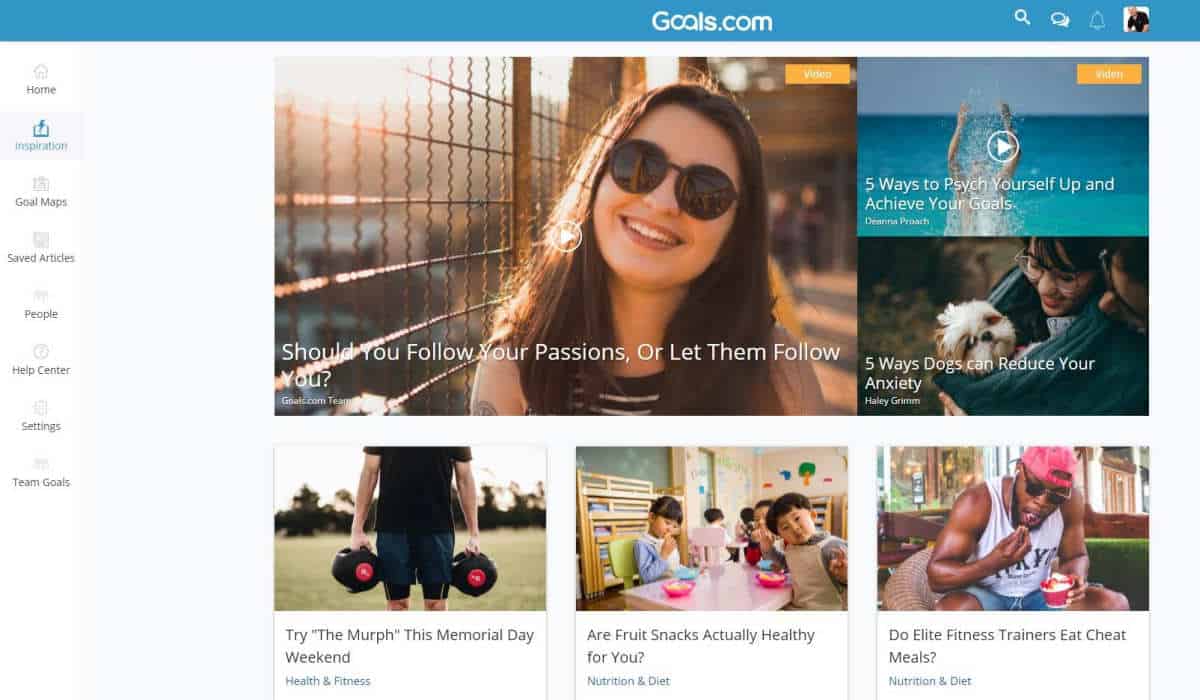 Goals.com's dedication to keeping its users inspired and pumped is really impressive.
Vision Board
This is a fun and powerful way to stay inspired. You can visualize the things you want to achieve by creating a collection of photos you can store and share.
It's a neat way of hacking into your psychology. By keeping your goals in sight, you can maintain your motivation momentum.
A Roster of Valuable Articles
We're only as good as what we know, which why constant reading and learning is crucial in achieving our best selves.
Goals.com houses a roster of helpful content you can read if you need to stimulate your mind or get a surge of ideas. From articles about business advice, psychology, leadership, self-improvement, fitness, nutrition, there's so much information waiting to be devoured.
You may also get a year-long program delivering exclusive weekly content propelling you towards your goals. How's that for conquering any obstacle and unleashing your true potential!
There's nothing like the motivation and inspiration you get from reading articles written by like-minded individuals. No matter your interests, Goals.com provides content that pushes you to the next level.
Share What Inspires You
Make your passion contagious by browsing, uploading, and sharing inspiring quotes, memes, and images with the Goals.com community!
Platform Flexibility
The program is available in three versions: personal, business, and sports. Aside from the features mentioned above (which comes with the personal version), this system can also streamline the goal-setting processes of businesses and sports teams.
Goals.com is designed to give employees and players a clearer understanding of what they need to do to be successful in their roles. Here are the included features:
Team Messaging — The

platform allows team members to have private conversations with another member or entire teams. Communication and collaboration made easier — Goals.com lets you give instant feedback from any device.

Text and Email Notifications —You can r

eceive regular progress reports and success summaries to keep your goals in focus along with informative articles and motivational messages.

File Sharing —

Save time and clear up the confusion by sharing relevant documents all in one place. Upload files, PDFs, images, and spreadsheets into our system so they can easily be shared with your team.

Gauge and Evaluate — Gauge success and discover gaps with cascading performance and momentum graphs that update progress in real time.
Pricing
You can enjoy the basic package for free but features are limited, such as scheduling, reminders, community feature, and access to content.
You can unlock premium features like mobile coaching, habit tracker, vision board, and many more at $0.83/month, billed $9.99 yearly for the best value.
For business and sports team, you can enjoy all the personal features plus the following features for only $29.99 per user per year.
Goal Maps for Teams
Mobile Coaching for Teams
Discussion
Goal Performance System
File Sharing
See the full pricing matrix here. 
Reviews
Here's what some users of Goals.com have to say about this app:
Learn how goal-setting application makes it easy to target, track and achieve in this video from Goals.com:
Goals.com does a great job in bringing all you need to stay productive and focused on your goals in one platform. If you want an efficient, centralized habit tracker online for yourself or your team, this app is definitely worth the try.
Which feature did you like best? Do you know other habit tracker apps like Goals.com? Let us know in the comments section below!
Up Next: