15 Outdoor Tech Gadgets For Your Backyard

Make your backyard safer, cozier, and way more fun with these outdoor tech gadgets curated from Amazon's product catalog. Keep reading to find out more.
RELATED: 45+ Smart Home Automation Gadgets And How To Use Them
Cool Outdoor Tech Gadgets Available on Amazon
1. Rock Space Wi-Fi Range Extender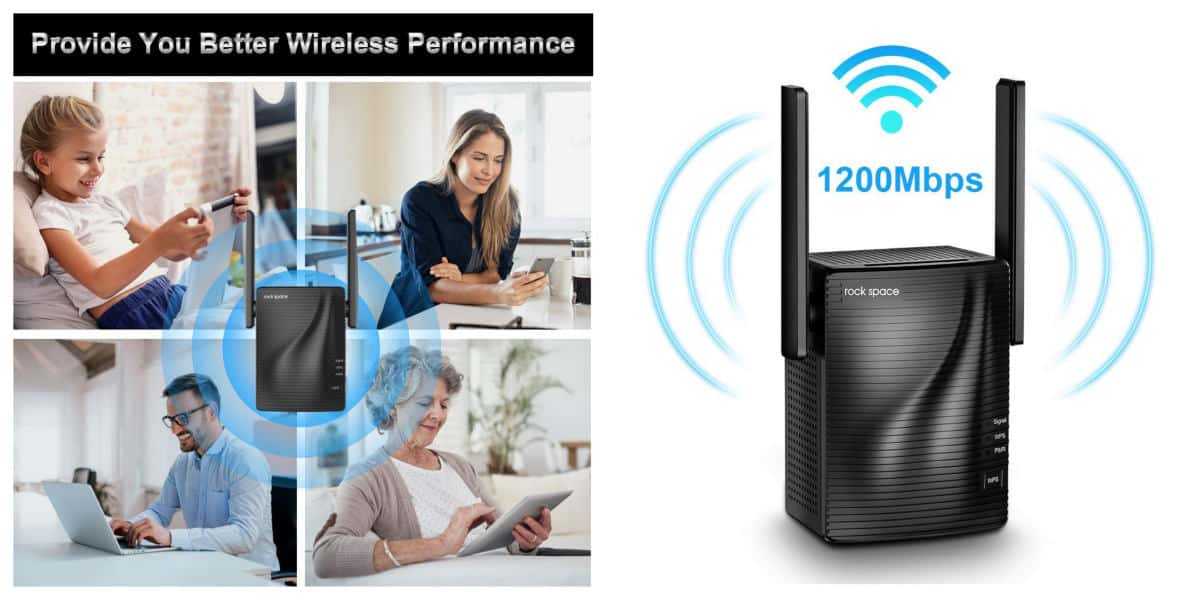 A restrictive Wi-Fi range is a pet peeve that can ruin your time outdoors. How else are you gonna post pictures of that awesome BBQ you're having or enjoy an outdoor Netflix marathon under the stars on a clear summer night?
With the Rock Space Wi-Fi Range Extender, your home network can reach your backyard without compromising speed.
Dual band technology for stable signal boosts
Dual external antennas for full signal coverage (360 degree/1292 square feet)
Has a signal indicator to help you locate the best Wi-Fi spot
Specs
Dimensions: 2.95 x 2.95 x 3.15 in.
Connectivity Technology: Wireless
Wireless Compatibility: 802.11a/b/g/n
2. Canbor VR Headset
Video gaming is fun, but playing games with a VR headset is a wild experience like no other. If you're not that much into games, you can also go on virtual tours.
Take advantage of the warm weather and pretend you're on the beach rather than in your backyard, or level up your gaming experience with the Canbor VR Headset. 
Eye-friendly PMMA aspherical optical lens
Adjustable focus distance (FD) and pupil distance (PD)
Comfortable wear design (made from eco-friendly and sturdy leather)
Specs
Dimensions: 8.1 x 5.4 x 4.3 in.
Weight: 9.9 oz.
Compatible Phone Models: Most smartphones with a screen size from 4.0 to 6.3 inches
Recommend Resolution: 1080P
Viewing angle(FOV): 120°
3. Reolink PoE IP Surveillance Camera
Your backyard is an extension of your home, and thus, must be kept safe at all times.
With the Reolink PoE IP Outdoor Surveillance Camera, you can rest assured your family and property are being looked out for, especially if you're going away for the summer. It also helps that it supports remote access, so wherever you are, you can check on your home.
Wide viewing angle (up to 80 degrees)
18 infrared LEDs
Waterproof (IP66)
Smart and accurate motion detection
Real-time alerts via email
24×7 NVR recording
Specs
Dimensions: 4.72 x 4.72 x 3.03 in.
Video Capture Resolution: 5MP
Recording: motion events to SD card (not included)
Data Transmitted Distance: 270 ft. with CAT5/330 ft. with CAT6
4. La Crosse Technology S88907 Vertical Wireless Color Forecast Station
Now, your backyard soirees need not be interrupted by an unforeseen downpour. The La Crosse Technology Wireless Forecast Station is most suited to homes located in areas with fickle weather. Hang one of these outdoor gadgets on a backyard wall for accurate weather reports and forecasts.
Its animated icons (Sunny, Partly Sunny, Cloudy, Rainy, Stormy, Snowy) and adjustable backlight make monitoring easier
Real-time temperature alerts
Measures temperature and humidity
Auto-daylight saving time updates
Specs
Dimensions: 6.1 x 9.6 x 1.06 in.
Wireless Sensor Transmission Range: up to 300 ft. in open air areas free from obstructions
Indoor Temperature Range: 32 F to 122 F (0 C to 50 C)
Outdoor Temperature Range: -20 F to 140 F (-40 C to 60 C); or -40 F if using Lithium
Receiver Power: 5.0V A/C adapter (included) OR optional 3 AAA Alkaline batteries (not included)
Sensor Power: 2 AA alkaline batteries (not included).
5. Anker Nebula Capsule
The Anker Nebula Capsule gives you an outdoor cinema experience in your very own backyard.
All you need is a plain wall and a dim space for this portable theater to work. It can stream videos from video apps or mirror the screen of your smartphone.
Can project vivid images up to 100 inches big
Has a 360-degree speaker that delivers omnidirectional sound
Has an aluminum shell to ensure durability while staying lightweight
Specs
Dimensions: 4.72 x 2.67 in.
Weight: 14.8 oz.
Aspect Ratio: 16:9
Brightness: 100 ANSI lumens
Lamp Life: 30,000 hrs
6. Foxelli Dual USB Solar Charger 21W
The Foxelli Dual USB Solar Charger helps you lower your carbon footprint while allowing up to two gadgets to stay powered. This solar charger is perfect for when you're out lounging in your backyard, but can just as easily work well during camping trips and other outdoor adventures since it's extremely portable.
Fast and efficient charging (24% conversion rate)
Built-in ammeter (allows better angling for improved solar ray absorption)
Supports USB charging for a variety of devices, including smartphones, tablets, and Bluetooth speakers
Weather-proof
Specs
Dimensions: 

Folded size: 11.4 x 6.5 x 1.2 in.
Unfolded size: 27.6 x 11.4 x 0.6 in.

Weight: 1.22 lbs
Solar panels: Sunpower solar cells (21W total)
Output: 5V / 3.5A max (dual USB)
7. Perfect Drink PRO Smart Scale + Recipe App
Invite friends over for a soiree in your backyard and impress them with your cocktail-making prowess. You don't have to be a professional mixologist with the Perfect Drink PRO Smart Scale.
All you need to do is follow recipe app that comes with the product, and keep pouring until you hear "ding," signaling that your fancy drink is complete.
Mixologist Definition: Someone skilled at mixing drinks, primarily cocktails
Compatible with iPhone and Android
400+ cocktail recipes
Accurate weigh scale
Recipe recommendations based on available resources
Comes with a weigh scale stand and 750ml cocktail shaker
Specs
Dimensions: 9.8 x 7 x 11 in.
Weight: 1.8 lbs.
8. Kizen Instant Red Meat Thermometer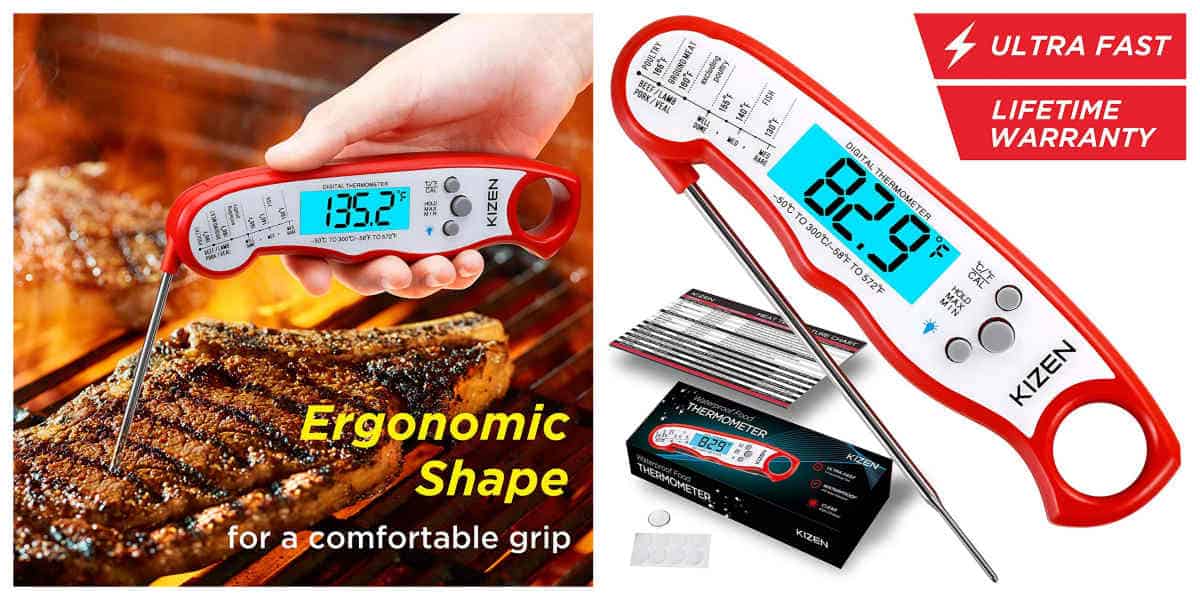 Your backyard barbeque party will see no wasted meat with the Kizen Instant Red Meat Thermometer. This product can be used for all types of meat, including beef, lamb, pork, chicken, turkey, and fish.
Fast temperature reading of just 2-3 seconds
Has a +/-1 accuracy
Waterproof
Large and bright LCD screen
Comes with an eCookbook called "Modern Cooking"
Specs
Dimensions: 6.7 x 1.1 x 2.2 in.
Weight: 2.4 oz.
Batteries: 2 x 3V CR2032 batteries
RELATED: 9 Cool Home Gadgets Perfect For Families With Small Kids 
9. SunBriteTV Weatherproof Outdoor 55-Inch Veranda
The SunBriteTV Weatherproof Outdoor TV is best for screened gazebos or covered patios. Take advantage of those warm summer nights with a round or two of karaoke or bingeing movies with the entire family.
Ultra 4K HDR screen
Direct LED backlight
50% brighter than indoor televisions
Sturdy aluminum case (weatherproof)
Built-in speakers
3 HDMI and 1 USB inputs
Specs
Dimensions: 49.39 x 28.68 x 3.45 in.
Weight: 47 lbs.
VESA Mounting Pattern: 400mm x 400mm
10. BREKX 54-Quart Double-Walled Black Party Cooler Speaker
Backyard parties require two crucial resources: cool music and cold booze. The BREKX Cooler and Speaker delivers on both of these party prerequisites. This product's cool factor is amplified by its sleek black design.
2 water-resistant and high-powered Bluetooth speakers, which can connect for up to 35 ft. away
Stainless steel outer shell (leak and rust-proof)
Double-walled inner plastic liner
Specs
Dimensions: 23 x 17 x 18 in.
Weight: 21 lbs.
Batteries: 4 AA batteries
11. Thermacell Patio Shield Mosquito Protection Lantern
Although insects serve an ecological purpose, it cannot be denied that they can be such a nuisance, especially when the weather's finally great enough to enjoy the outdoors. For instances like these, the Thermacell Patio Shield Mosquito Protection Lantern comes in handy, especially the next time you throw a backyard party.
Covers a large 15 x 15 ft. area
No smell
No candles or open flames
Specs
Dimensions: 6 x 7 x 11 in.
Weight: 1.66 lbs
12. Gardena 4069 R80Li Robotic Lawnmower
Robot vacuum cleaners may be a dime a dozen these days, but have you heard of a robotic lawnmower? For busy people with spacious backyards, the Gardena 4069 R80Li Robotic Lawnmower is a must-have.
Works even when it's raining
Setting adjustment via a rotary knob
Follows mowing schedules (time and day-specific)
Quiet and emission-free
Energy-efficient
Specs
Dimensions: 24 x 16 x 8 in.
Weight: 16.5 lbs.
Cutting Height: 0.7-2 inches
Battery: 1 x Lithium-ion battery
13. Truprima LED Ball Light
Light up your backyard on your next garden party with the Truprima LED Ball Light, which offers 16 stylish color modes to choose from. Throw a few of these LED balls in your backyard to ensure your next party will be extra lit.
Easy to use (remote controlled with bottom button control)
Built-in rechargeable lithium-ion battery
10-hour sustained light
Waterproof (IP-67)
Specs
Dimensions: 5 x 4.9 x 4.9 in.
Weight: 11.2 oz.
14. Best Choice Products 10ft  Solar LED Patio Umbrella
Backyards and umbrellas go hand in hand. Consider the Best Choice Solar LED Patio Umbrella a needed update on an otherwise old backyard staple.
This umbrella absorbs sun rays and turns them into energy for your gadget charging needs.
Solar-powered LED lights
Multi-purpose USB charger (doubles as a detachable power bank)
Easy-crank and tilt system
Specs
Dimensions: 62.5 x 6.2 x 6 in.
Weight: 20.9 lbs.
Material: Polyester, Aluminum, Steel
15. Blue Rhino Outdoor Propane Gas Fire Pit
The Blue Rhino Outdoor Propane Gas Fire Pit runs on 30,000 BTU liquid propane. It ignites with a simple push of a button. This fire pit gives off the same warmth of a real wood-fueled fire pit, sans the mess and hassle.
Discreet control panel
Stylish side panels hide the heat source for a polished look
Specs
Dimensions: 32.5 x 32.6  x 9.5 in.
Fuel Type: Propane
Learn about these top camping tech gadgets you must have in this video from TopGadgetsHD:
Backyards are where families and friends share some of their best memories. Keep your backyard safe, cozy, and fun with the cool outdoor gadgets on our list.
Does your backyard have any of the products mentioned in this list? Tell us about them in the comments section below.
Up Next:
Pricing Disclaimer: Prices on this list are subject to change without further notice based on price fluctuations on Amazon. Please refer to the links for actual prices. All prices on this list are accurate as of June 3, 2019.