Use ooVoo to Connect and Chat with up to 12 Friends Simultaneously [ARTICLE]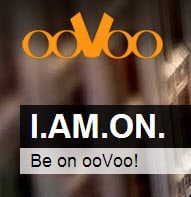 As a powerful video chat application, OoVoo allows online individuals to connect instantly to one another using video, voice and instant messenger. With a full range of powerful tools, it has a variety of features that easily sets it apart from its competitors like Skype, FaceTime (Apple), Facebook, and Google voice.
Simultaneously Chat with 12 Friends
OoVoo is an improvement over FaceTime and Skype, allowing users to chat with up to 12 individuals at the same time. On larger screens (mobile devices, computers) OoVoo generates a visual "file" for every person in your chat. Small screen devices (iPod Touch, smartphone) show a single individual, but allow you to switch easily from one individual to another.
You can connect quickly using Wi-Fi, 3G and 4G, to any Android or Apple device (and your PC or Mac). By placing a simple-to-use "Call Me Button", on your blog or website, people can easily make instant contact with you, with a single touch.
Best of all, it is free, although there is a premium version available with additional features. The premium version is $2.99/month or $29.99/year and provides screen sharing.
Group Video Chat
One of the main reasons so many individuals enjoy using OoVoo over other platforms is its ability to create a live group video chat. Online users can easily take screenshots during an online video conversation, to save to a file. OoVoo can easily record a video call, sending the and upload videos directly online sites including YouTube.
OoVoo Features
OoVoo offers up to 12-way video calling, and allows the user to confirm whom they are talking with, by using visual recognition (which requires a webcam). It supports HD video, and can transfer files up to 25 MB. Video messages up to five minutes long are always free on OoVoo, and work as an easy alternative to typing out long messages. You can easily record all of your video chats, to create an instant memory that could last a lifetime. Files can be saved as an HTML, FLV, or AVI embedded video.
Social Networking
Users can instantly see which of their Facebook friends are logged in to OoVoo to begin chatting with everyone, even if they have not downloaded the OoVoo program. Additionally, users can upload video messages, and even record video calls directly to YouTube.
Free 12-way group video chats, instant messaging, and the ability to save captured videos, make OoVoo a great option for video conference calls.