What Is the Best Portable External Hard Drive?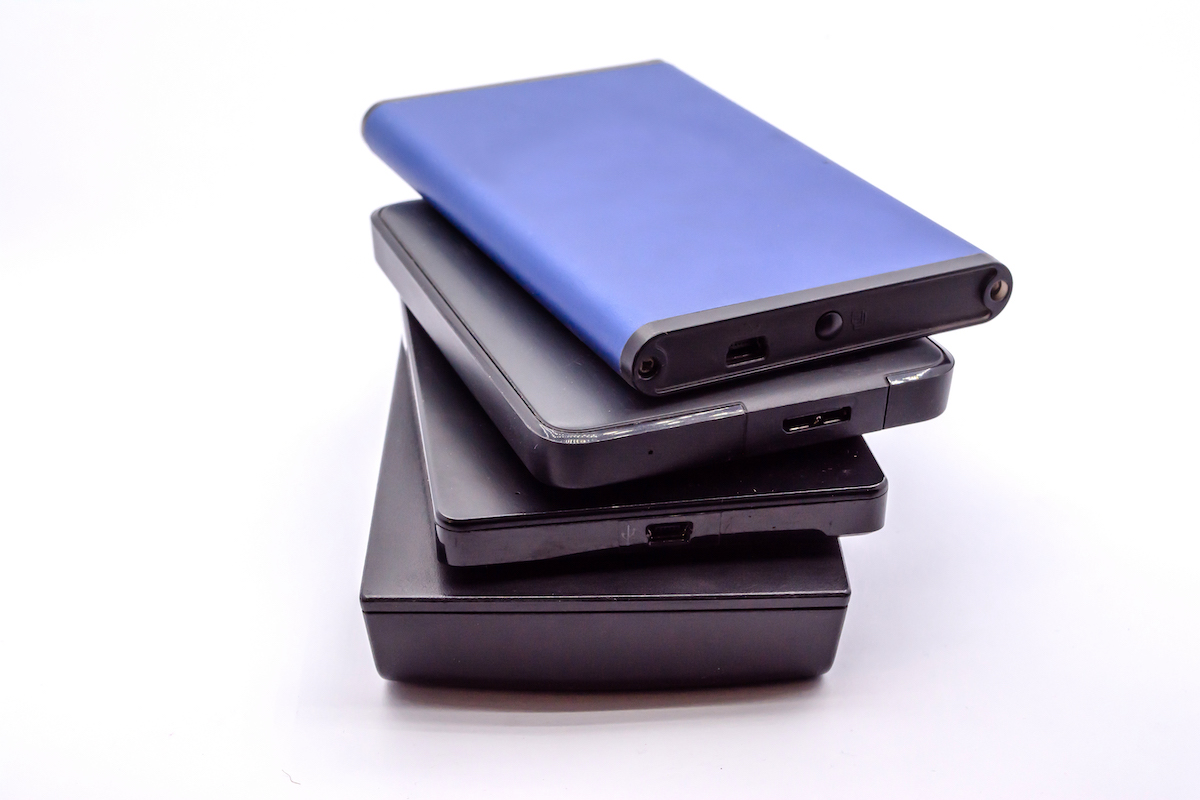 Estimated reading time: 5 minutes
Portable external hard drives have changed and adapted to the latest technological trends. If you are looking for the best external hard drive, you're in for a treat. We've compiled a list so you will have to search no more. 
What Are the Best  Portable External Hard Drives for Your Laptop and PC Units?
1. G-Technology ArmorATD
The G-Technology ArmorATD Series is a hardcore portable storage device that can store your data even in extreme outdoor activities. 
Main features:
Choose from storage from 1 to 5 terabytes. 
Shockproof triple-layered up to 1-meter drop for 4 – 5 terabytes and 1.2 meters for 1 – 2 meters on a carpeted floor.
Crush rating of up to 1000 lbs
IP54 rating Dust and rain resistant 
Compatble with Thunberbolt 3, USB-3.0 & USB-C  
2. Western Digital My Passport Series
A small and slim external hard drive with a dimension of 4.22 x 2.95 x 0.75 inches and weighing just 7.40 ounces, the WD My Passport Series fits in the palm of your hand. Portability at its finest.
Main Features:
Includes backup software so you can manage this device 
Five terabyte storage
256-bit AES hardware encryption for password protection
SuperSpeed USB port (5Gbps); USB 2.0 compatible
For peace of mind, the company gives a 3-year limited warranty 
3. SanDisk 1TB Extreme
The SanDisk Extreme fits your active lifestyle. With the carabiner loop made available, you can hang it anywhere. And since it's rated IP155, it's water (water flow 30 kPa at 3 min) and dust-resistant—a good and safe way to store your data even in extreme conditions.
Main Features:
A write Speed of 1000MB/s combined with a Read SPeed of 1050MB/s
Drop protection of up to 2 meters
Password protection – 256-bit AES encryption
Supports Windows 8, 10, and macOS v10.9+ 
5-year limited warranty
Recovery Software Subscription of up to 2 years
SEE ALSO: No More Looking Under Your Car Seat for Loose Change
4. Samsung T7 Series
If you need to transfer large files in a reliable, fast, and easy way, the Samsung T7 Series might be what you need. It has a Write Speed of 1000 MB/s and a Read Speed of 1050 Megabytes Per Second, thanks to this unit's USB 3.2 Gen 2. With a thickness of only 8mm weight of just 58 grams. With a width of 57mm and a length of 85mm. This external hard drive can slip right into your pocket.
Main Features:
It has 500GB, 1 & 2 Terabyte options 
Equipped with Embedded PCIe NVMe technology for faster read and write speeds
Shock-resistant up to 6 feet
Aluminum casing
The ePCM technology and Dynamic Thermal Guard keep it from overheating
5. LaCie Rugged SSD
Videographers and influencers will find the LaCie Rugged performance very satisfying. This is because it's boosted with Seagate FireCuda NVMe read/write throughput up to 950 megabytes per second. 
Main Features:
2 Terabyte storage
Rated IP67 for shock resits up to 3 meters, dust, and water-resistant
Hardware-encrypted
Transfer up to 60 Gigabytes of video in under 60 seconds
Edit straight from the drive even up to $k RAW uncompressed videos
Lightweight and small
Can store 200K RAW images or 4K videos for up to 65 hours
5-Year coverage of Data Rescue
One month of free Adobe Creative Cloud All Apps plan 
6. WD_BLACK D30
Who says portable external hard drives aren't for gamers? The WD_Black D30 Series was explicitly made for gamers on the go. Gamers can store games from PlayStation 4 (system software version 4.50 or higher only), PS5 consoles, Xbox One, Xbox Series X|S, and Xbox Series X|S (Play and store Xbox One games; archive Xbox Series X|S games) with certain specifications.
Main Features:
Compatible with PCs
A decent read/write speed of 900 megabytes per second
Up to 2 Terabytes of storage space or up to 50 games
Performance speed of 900 megabytes per second 
7. Seagate Expansion Series
The Seagate portable external hard drive has storage options of 1 terabyte to 5 terabytes. In addition, it is pre-formatted for windows, so you can connect it using the 18-inch USB 3.0 cable.
Main Features:
Just drag and drop, and you're good to go
No software is needed. It connects automatically to your computer
One year rescue data
OS is Windows®8, 9 and 10
SEE ALSO: No More Guessing How Much Your Luggage Weighs
8. ADATA SE800
Yet another super-fast read/write speed of up to 1000 megabytes per second because of the USB 3.2 Gen 2, the ADATA SE800 is reliable and compact. 
Main Features:
Works with Android phones
Military-grade toughness with the IP68 rating. Waterproof, Drop Proof, Dust Proof, and Shock resistant 
Compatible with game consoles
Dimension of 2.8 x 1.7 x 0.4 inches
It weighs only 1.4 ounces
9. Crucial X8
The Crucial X8 Series is compatible with Windows, Mac, PC, gaming consoles, tablets, iPad Pro, and even your smartphone. And it is equipped with USB 3.2 Gen2 Type-C for a read speed of up to 1050 Megabytes Per Second.
Main Features:
Up to 2 meters drop proof on carpeted floors
Up to 2 Terabytes of storage
Anodized aluminum for a durable and beautiful design
Backed up by Micron
Can withstand extreme temperatures
Can withstand vibrations 
There are a ton of other portable external hard drives out there. But for the most part, this list can help you in any area of storage lifestyle you need. So take your pick and free yourself from worrying about running out of storage space.